Only a few people know that improving vision in a natural way can be easy!
The common practice is that when our vision deteriorates, we have a choice of (thicker) glasses, contact lenses or the currently increasingly popular laser surgery.
Not many people know about the options of natural vision improvement and most probably have no idea that vision should be taken care of as we do for our skin,teeth or hair.
With the correct vision hygiene we can prevent most eye problems.
The Bates method heals the vision in a natural way - without glasses, contact lenses or surgery.
Simple and safe techniques, known for more than a century, that can be used for prevention, reduction, or maybe even complete removal of blurred vision.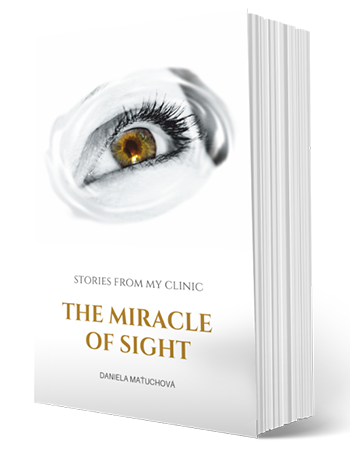 The Miracle of Sight
E-BOOK
In my more than 7 years of experience I have had the opportunity to work with many students. Some stories kept repeating as if they were carbon copies of each other, some were surprising or exceptional, but all of them enriched me with new knowledge.
With it came the idea to spread this knowledge further, so I decided to collect them into this publication. More than 50 stories from my office, in which I want to illustrate the most common mistakes that lead to impaired vision.

I'm convinced that after reading this book you will change the way you see and you will discover what an extraordinary miracle and gift our sight is to us.
We often prepare various lectures or workshop, not only in Banská Bystrica, but all over Slovakia. You can also book a personal consultation in our center ProVitalis, either alone or with up to two other people.
More information about events or news available on our Facebook page.
What condition are your eyes in?
Are my eyes often tired?
Do they tear, or the opposite - are they dry and red?
Do I feel burning or pain in my eyes?
Is my vision blurred and I have to squint to see more clear?
Do I have a feeling that my current glasses aren't strong enough and I might need stronger ones?
If you answered yes to at least one of the above questions, maybe it's time to pay more attention to your eyes. If the problems are more serious, don't hesitate to visit your doctor.
But in a lot of cases, you can help yourself.
If you are interested in improving your vision naturally, feel free to contact me.